Even before the COVID-19 pandemic, the tourism industry had seen dramatic changes to the guest experience over the past few years. Attractions must use the latest technology solutions to stay ahead of the curve and meet modern expectations – or risk falling behind.
As the attractions industry begins to recover from the coronavirus crisis, new technology solutions can help them to overcome the current challenges. But technology also has the power to create an improved and immersive guest experience for the visitors of tomorrow.
Technology is everywhere in our modern world. The more that consumers become accustomed to the convenience new technology offers, the greater their expectations will be for seamless, intuitive engagement with a brand.
For attractions to stay ahead of the trend, providing the type of streamlined experience that visitors expect will become essential. For instance, venues should be looking to incorporate and offer services such as mobile ticketing, virtual queuing and contactless payments through a single, integrated platform for guests.
The experience economy continues to evolve. And attractions that use technology solutions to focus on the guest experience will undoubtedly have the edge.
For example, the popular Village Roadshow Theme Parks (VRTP) group in Australia, a long-standing accesso client, has increased its focus on improving the quality of the guest experience rather than simply chasing volume. This allows the operator to stay competitive and keep visitors coming back for more – even in the wake of COVID-19.
Preparing guests for the best visit possible
The modern visitor, particularly within the tech-savvy millennial and Gen Z populations, expects an authentic, memorable end-to-end experience. And this begins long before visitors have even set foot inside an attraction. So, having a digital presence and engaging with guests in a meaningful way before their visit is key.
Potential visitors should be able to find up-to-date information easily through the park's website, eCommerce store, social media channels and mobile app. The consistency of your online presence across all channels is critical.
Regardless of where they are or how they're accessing information, guests should be able to clearly understand that they're engaging with your brand. Additionally, in the post-COVID-19 era, guests will want to know about heightened safety protocols as attractions rebuild trust and loyalty.
VRTP's implementation of accesso technology is a great example of how theme parks and attractions can deliver a streamlined, consistent guest experience. All through the use of an effective mobile app.
Village Roadshow Theme Parks has one app for all of its venues. This allows for brand continuity from the guest perspective – no need to download different apps for different parks. Plus it also opens up new cross-selling opportunities between parks in the operator's portfolio.
Mobile apps provide an all-in-one technology solution for attractions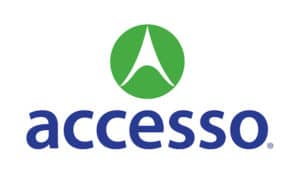 With a successful theme park app, all the information that visitors need to plan and enjoy their visit is delivered seamlessly to the palm of their hand. This is particularly important today, as smartphones have become nearly indispensable components of daily life.
In fact, over the past decade, smartphones have reached penetration rates of over 80%, according to Deloitte's Global mobile consumer trends report. Almost every developed country surveyed in the report has at least 90% mobile phone penetration. To illustrate how ingrained these devices have become, about one-third of consumers around the world check their mobile phone within five minutes of waking up.
Mobile apps allow operators to meet their guests "where they are," and facilitate a more enjoyable visit. Furthermore, they also give guests an easy path to online purchases. This makes it simple for them to plan their day while also driving revenue for the operator. Modern consumers have little patience for clunky, outdated web stores. So, an engaging online storefront that's easy to navigate is key to increasing revenue.
The shift to mobile ordering
More guests than ever before are using their mobile devices to buy tickets. Back in 2015, 73% of transactions made on eCommerce sites supported by the accesso Passport online ticketing solution occurred on desktop. This was compared to 27% on mobile. However, in just four years, accesso has seen this statistic flip to 65% on mobile and 35% on desktop. It's clear which way the tide is turning.
Beyond making life easier for consumers, tapping into online sales carries great benefits for the operator too. With a truly great eCommerce presence in place, you can lift the burden on front-line staff and divert their focus toward other important components of the guest experience.
For attractions wanting to shift more sales online, one simple way to accomplish this is to offer incentives. This is a practice that has proven successful for Village Roadshow Theme Parks. This operator offers discounts for online sales which do not apply to tickets sold at the gate.
Selling tickets is only the beginning
To provide a truly connected experience for visitors, an operator's online shopping solution needs to be fully integrated with all guest-facing services available at the park.
A comprehensive online shopping experience, paired with helpful up-sells and cross-sells, allows guests to map out their on-site experience to the fullest. It allows them to buy show tickets, refreshments, parking passes and VIP experiences, or take advantage of virtual queuing services. All this can be done ahead of their visit, increasing pre-arrival commitment.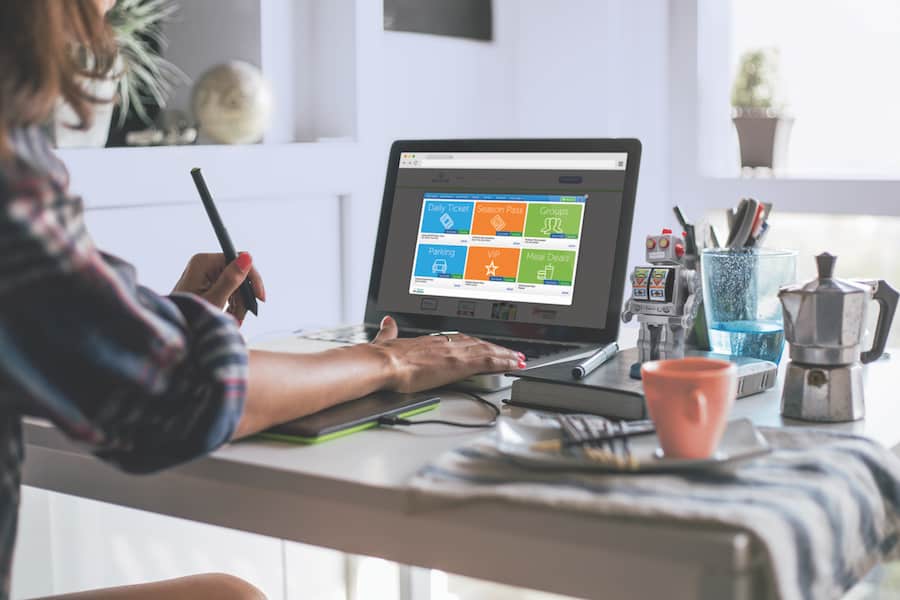 This leads to a more enjoyable, stress-free experience for the guest. Plus it also helps drive cart values, making eCommerce a win-win for operators and visitors alike. Ideally, eCommerce functionality would also sync up with the mobile app for a streamlined experience. So, your platform must have the ability to accomplish this.
The right technology solution will also allow attractions to remove barriers to purchasing. Operators can provide flexible options for payment, like Afterpay, or alternative payment methods like PayPal. Also, cart-save functionality means that customers can easily return and continue later if they are interrupted. This decreases the likelihood of cart abandonment.
Another benefit of online sales is the opportunity for operators to begin collecting guest information in advance. They can then leverage this data to personalize each guest's experience before, during and after their visit.
Beyond the opportunities for advanced personalization, like targeted promotional offers, the right technology can also help operators adhere to proper contact tracing measures set in place amid the COVID-19 pandemic.
The in-park experience has changed
One of the main complaints of theme park guests is waiting in line. After all, there's nothing that can spoil a highly anticipated day out more quickly than seemingly endless queues.
From waiting for admission at the front gate to waiting for rides and attractions – even waiting for food and beverages – there are several areas in which guests can feel like they're wasting their time standing in line. They would, of course, rather be enjoying all that a destination has to offer.
There's nothing that can spoil a highly anticipated day out more quickly than seemingly endless queues
Luckily, keeping up with the latest technology solutions means that attractions can help guests avoid these pain points. Therefore, operators can improve the overall guest experience and increase the likelihood of returning visitors.
By implementing and integrating the right solutions, operators can reduce or even eliminate these negative experiences. This ensures that guests' lasting memories of their latest visit will be filled with enjoyable moments. Rather than hours spent waiting in line.
The power of technology
Speaking to accesso in 2019, VRTP Customer Insights Manager Robert Young emphasized the power of this type of technology and how making the switch to accesso's eCommerce system allowed the operator to eliminate unnecessary wait times, starting at the gate.
Before launching a feature-robust eCommerce ticketing site in partnership with accesso, VRTP's guests were facing admission wait times of up to 60 minutes. By shifting sales online, VRTP has been able to eliminate this unnecessary physical queue at the ticket counter. Therefore facilitating faster access to the park's many attractions.
Online booking also allows parks to operate staggered arrival, where visitors can reserve a specific entry time to the park. While this allows guests to plan out their day even more efficiently, it also assists operators with access control and capacity management. These components are more important than ever as attractions reopen post-COVID-19.
Virtual queuing can help guests enjoy more and wait less
Another technology solution that is rapidly gaining popularity at attractions of all markets and sizes is virtual queuing. Even more so following the pandemic. This solution sets itself apart from more simple ride reservation symptoms. This is due to its ability to dynamically adjust to unpredictable variables, including guest flow, incremental weather and operational changes.
The ability to optimize real-time capacity and communicate with guests via their mobile devices ensures a more stress-free experience for both guests and staff.
Freeing up guests' time can have unexpected benefits, as technology like virtual queuing sets the stage for boosted revenue. With guests freed from physical lines, they can enjoy more of what the venue has to offer. As a result, they are more likely to invest time in browsing merchandise and purchasing food or refreshments.
accesso's latest innovation, the "100% Virtual Queuing" model, makes the traditionally premium add-on available to all guests at no additional cost. This means that operators can dramatically enhance their support of physical distancing restrictions amid COVID-19.
Additionally, the accesso 100% Virtual Queuing model allows operators that had already integrated virtual queuing before COVID-19 to maintain revenue generated by their premium offerings. This is done by setting service levels and allowing guests to upgrade to premium passes that allow for even shorter wait times.
The benefits of personalization
Wouldn't it be great if every visitor had a personal concierge to guide them through their day at the park?
With the right technology solutions, attractions operators can treat each guest like they are the only guest, serving as a virtual guide to the kind of personalized, immersive experiences that modern consumers have come to crave.
Of course, personalization has its rewards for the operator, too. Research shows that properly exe­cut­ed per­son­al­iza­tion can deliv­er five to eight times the ROI on mar­ket­ing spend. It can increase sales by 10% or more.
Most industry insiders know that personalization is key to engaging with guests in a meaningful way, boosting revenue and more. So, how can you effectively leverage it to benefit both your guests and operations?
By using a guest experience management system, such as accesso's The Experience Engine (TE2), operators can integrate disparate sources of information, like guest location and purchase history. They can leverage those insights to design automated campaigns that trigger messages, up-sells and offers. And deliver these at exactly the right time and place for each guest.
The ability to analyse and respond to visitor behaviour in real-time allows for an enhanced guest experience in the moment. But it also allows for optimization of park operations for the future.
If you can personalize the guest experience, guests will spend more, return and be more likely to recommend your park to others. And, with the right set of technology solutions in place, attractions can achieve "personalization at scale" – the ability to give each guest their ideal experience, reducing or eliminating friction points along their journey, while allowing you to continue operating safely, for both guests and employees.
Increasing revenue
Personalization can increase revenue and brand loyalty. However, it also has the potential to exponentially bolster safety measures in the wake of COVID-19. For instance, using real-time insights, targeted messages can be leveraged to guide visitors away from long lines or crowded hotspots.
Being able to monitor and respond to guest behaviour in real-time to prevent crowding is key
Being able to monitor and respond to guest behaviour in real-time to prevent crowding is especially key as guests return to their favourite destinations post-pandemic.
For example, if an operator knows that a certain restaurant is likely to be very busy between 11:30 a.m. and 1:30 p.m., they could deliver a targeted message offering discounted dining packages that kick off after peak traffic has dissipated. Or, if retail venues are getting crowded later in the day, a "shop early and pick up later" message could be deployed, offering discounts for early shoppers to encourage a shift in guest traffic.
Technology solutions to solve wait times at attractions
The same tactics can be applied to alleviate wait times at popular attractions, too. Say a particular ride tends to have long queues between 2-4 p.m. Park operators could trigger a "no-line" message either before or after that window. This will guide guests to rides and shows during times in which they're being underutilized.
With the right solutions, guest data may also be leveraged to personalize communication for specific visitor demographics. For instance, directing groups with small children to family-friendly rides.
Attractions can even cater to preferences as unique as a guest's favourite in-park beverage. If a visitor has shown a preference for an attraction's signature drink in the past, they could be sent an offer for that particular item upon their next arrival. These thoughtful, personalized interactions have the potential to win the hearts and minds of your guests. Therefore increasing loyalty and return visitation.
In addition to the ability to deploy personalized messages, content and offers, an effective technology solution will also provide detailed maps, show schedules and other wayfinding information for guests as they explore an attraction. This lays the foundation for a fully connected, hassle-free, stress-free and care-free visit.
Contactless payments
Contactless payments and cashless transactions were already on the rise before the outbreak of COVID-19. And their popularity shows no signs of diminishing. Juniper Research predicts that contactless payments will triple to $6 trillion around the world by 2024. Today, these offerings are seen as a necessity for operators seeking new and innovative ways to enhance contactless options and minimize close interactions between visitors and team members.
Whether made possible through a wearable, such as accesso Prism – a next-generation, smart park wristband – or through a digital wallet on a mobile app, contactless payments help to facilitate fast, convenient transactions, all at a safe distance.
The swap to contactless payment hardware is simple. Also, the investment will pay off in the long run, putting your guests at ease both in the age and aftermath of physical distancing. Modern consumers across the globe have embraced contactless payments, with many having made the move to cashless long before COVID-19. Attractions must be able to keep up with their expectations.
Technology solutions extend to F&B at attractions
Frustration with long queues extends far beyond rides and attractions. Hungry and thirsty guests don't want to wait around in lines for refreshments either.
We're seeing more and more innovation in the F&B space, with quick-service restaurants launching kiosk ordering solutions and mobile ordering quickly becoming the norm. Consumers are accustomed to being able to pick up their phone and choose their ideal meal with a few taps. Particularly following a period of time spent quarantined at home.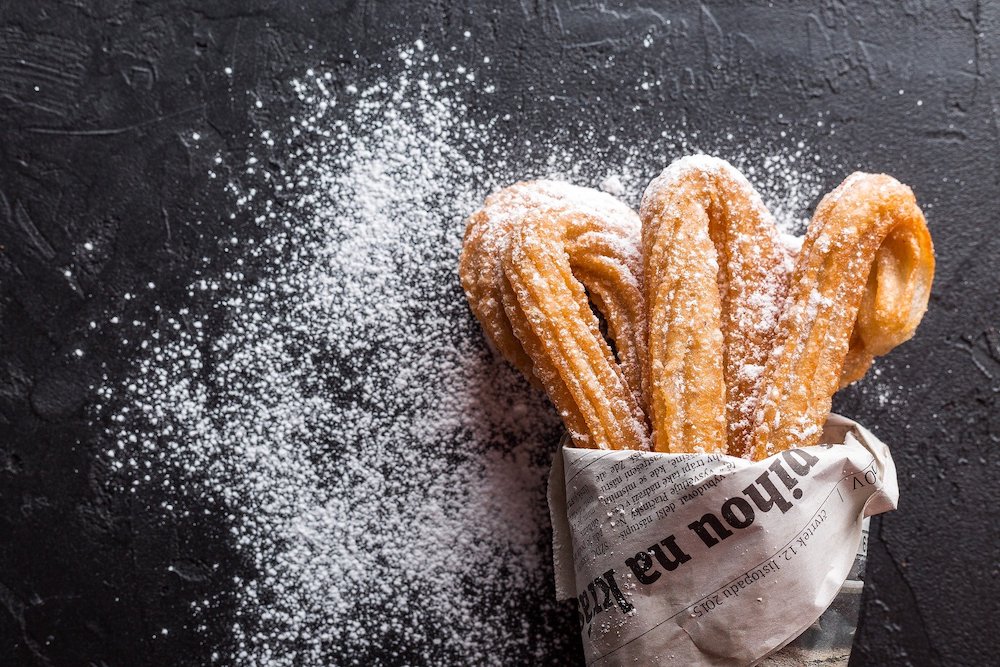 So, guest expectations for a quick and seamless F&B experience are rising, and the numbers back it up. A survey conducted by the National Restaurant Association in the U.S. found that 79% of customers say they believe that restaurant kiosks make their experience more convenient. Ordering through a mobile phone or kiosk gives visitors more freedom to browse on their own time. They can also customize their order as they like and skip the queue.
Mobile apps can allow operators to provide guests with an easy-to-access overview of available options. This means that they can place orders quickly and get on with enjoying their day, instead of waiting in line.
When coupled with a guest experience management solution like TE2, operators can take this convenience one step further. For instance, they can direct guests to less-busy restaurants. Here, they won't have to wait as long for their order to be prepared and can more easily remain distanced from other guests.
Enhanced retail experiences
Even before the outbreak of COVID-19, on-site retail shops served as an experiential pain point for guests; popular shops were routinely packed with guests and long lines. This must be prevented in the age of physical distancing.
To overcome these challenges, operators can turn to technology solutions that empower reservation-based shopping to control capacity and allow guests to book a slot during which they can browse and purchase in physically distanced comfort.
Some attractions are even using technology to adopt "curbside pickup," a practice formerly reserved for the restaurant industry. Similar to the new and improved F&B operations mentioned previously, guests can be encouraged to shop at their favourite retail outposts earlier in the day and then collect their purchases when they exit the park. To encourage visitors to make use of this offering, targeted messages can be sent. Perhaps including special "early bird" shopping discounts.
From entering a theme park or attraction to paying for merchandise, fingerprint scanners and other high-touch surfaces will be a thing of the past. More and more, guests will expect operators to offer contactless solutions across all areas of the in-park experience.
Fortunately, the industry can get ahead of these concerns by providing all-in-one contactless payment solutions that work across retail, F&B and other point-of-sale locations.
Nurturing guest loyalty post-visit
The in-park experience is paramount. However, it is also important for operators to remember that guest engagement doesn't end when a visitor leaves the park. To effectively maintain and build upon relationships an operator has built with their guests, it's important to keep in touch after a guest has left, and once they've returned home.
Brand loyalty is the name of the game. There are many ways operators can build that loyalty and drive guests to return time and time again. This includes distribution of experience feedback surveys, meaningful touchpoints of digital communication and offers to incentivize return visits.
Throughout all cycles of a guest's journey, personalization is crucial
Of course, not just any form of communication will do the trick. Throughout all cycles of a guest's journey, personalization is crucial. Operators that succeed in personalization have important data at their disposal. Furthermore, they also have technology that empowers them to effectively use it to enhance the guest experience.
Effective post-visit communication can wield further insights for operators, as well. Using the data within your system to make operational improvements will help make your attraction more efficient. As well as enhancing guest satisfaction.
Technology solutions for successful attractions of the future
Technology has the power to redefine the guest experience. The right solutions can help operators to create a fully integrated and seamless guest journey. So they can connect meaningfully with guests before, during and after their visit. Operators can also gather crucial data and use it to create a truly memorable experience.
As consumers expect more, attractions must implement integrated technology solutions. This will allow them to maximize the potential of every part of the guest experience. Therefore, helping them to stay ahead of the competition.
This is a challenging time for our industry, but one we will get through together. With the proper resources in place and technology partners by their sides, operators of all markets and sizes have the power to solve the challenges of today while reimagining the guest experience of tomorrow.