The £12 million reefLIVE Aquarium will be opening in Belfast's Titanic Quarter in 2022, offering an immersive, fully engaged visitor experience with live displays and cutting-edge narrative technology.
The reefLIVE Aquarium project will create new jobs and is expected, despite the effect of COVID-19 on the sector, to attract over 300,000 visitors each year. Blooloop spoke to Keith Thomas, Managing Director, reefLIVE Ltd. and Tanya Griffiths, director of award-winning architects and design studio, Kay Elliott, to hear about the project.
Keith Thomas, reefLIVE's founder, is an aquarium veteran:
"I joined the embryonic SEA LIFE Centres Ltd. in the mid-eighties. David Mace, the other founder of reefLIVE, started SEA LIFE in 1979 when he built the Oban SEA LIFE Centre. We have some considerable heritage in this."
Early career at SEA LIFE
Thomas studied for a degree in biology and marine biology at university. He then became deputy manager of the Weymouth SEA LIFE Centre.
"In those days, everybody got involved in everything," he says. "From building new displays over the winter when we were closed, looking after the fish, counting the cash, managing staff, and making sandwiches. It was a great way to learn about all aspects of the business.
"SEA LIFE was conceived as something which would show visitors the marine habitats around our coast. It was only later on that they started to bring in more international displays and species."
Thomas quickly became a general manager before going on to run the Portsmouth SEALIFE centre. Then, he became involved in the development side with Scarborough in the late 1980s. Here, as a manager, he was involved in the fit-out and in starting it up.
"It was the first one I was part of before it was even a hole in the ground. I saw the whole thing go up. It was tremendously exciting to be involved in a project, right from conception through to opening the doors. Then seeing people enjoying themselves, and going away with such a positive feeling from having seen a marine aquarium."
European expansion
Following this, Thomas had responsibility for starting up SEA LIFE in continental Europe:
"I went over to the Netherlands, to Scheveningen. This was the first international SEA LIFE project. It was my responsibility at that stage to find locations, get them built and opened. We did projects in Holland, Belgium, Germany, and Spain."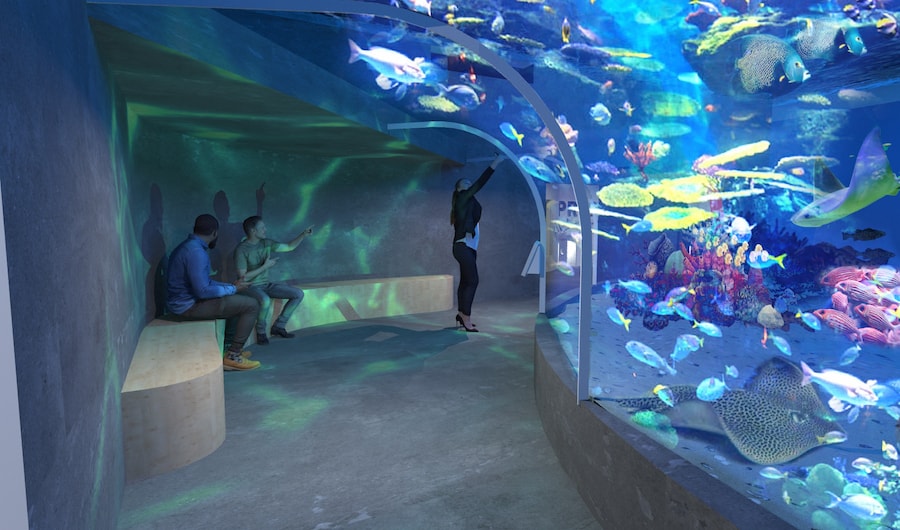 David Mace was chairman of SEA LIFE centres at that point. The company then refinanced and merged with Vardon to create Vardon Attractions. Thomas says:
"We rapidly became a firm with around 24 aquarium projects, plus the London and York Dungeons. We were looking to expand further. I was in the role of development director by that stage, about the same time as Nick Varney joined us."
Varney, Managing Director of Vardon Attractions and a main board director of Vardon plc, would later lead the management buyout of Vardon Attractions to form Merlin Entertainments.
Keith Thomas and reefLIVE
Thomas left the company in the late nineties, joined a consulting company called Grant Leisure. He spent five years at Grant Leisure, working on international leisure projects.
In 2003, he set up Petersham Group, a leisure business consulting company, with a business partner. They have continued to work in the experience economy sector, exploring the economics, marketing and operation, while working closely with the development and design teams.
Thomas had kept in touch with David Mace, and, two years ago, got a call from him:
"He had been asked by Harcourt, one of the investors in the Titanic Quarter, to come to Belfast. Firstly to have a look at Titanic Belfast, but also to look at the Titanic Quarter and give some insight into what other kinds of attractions might work there.
"He felt it was exactly the kind of place that should have an international standard aquarium. The great aquaria around the world tend to be in the big port cities: Boston, Baltimore, Genoa, Lisbon.
"Belfast is an up-and-coming location for tourism. But it is very light on attractions, particularly family attractions. And yet there's real growth in demand. The success of the Titanic Belfast has exceeded anybody's expectations."
This was the genesis of Belfast's reefLIVE aquarium.
The start of Belfast's reefLIVE Aquarium
Belfast, Thomas says, has an opportunity to completely invent a new kind of tourism:
"The Titanic Quarter is in the relatively early stages of development. There is a massive master plan which has been revised recently and will be centred around a leisure quarter. The reefLIVE Aquarium will be part of that, along with the Titanic Hotel and the Titanic Belfast."
"There is already another attraction there, We Are Vertigo, indoor adrenaline-type attractions. They are going to invest further. There are plans for other attractions around that, as well as extra public realm development. It will be a real destination hub for visitors to Belfast.
"The city is keen to see more reasons for people to visit, but particularly more reasons for people to stay longer, and to stay overnight. This has been a big trend in the city, over the last couple of years."
Education and conservation
The reefLIVE Aquarium will respond to the interest in and concern for the marine environment, generated by programmes such as BBC's Blue Planet 2, and by what people are seeing in the news.
"We felt that at the heart of a reefLIVE Aquarium there has to be the communication of a really strong conservation message," says Thomas.
"We want reefLIVE Aquarium to be a tourist attraction, of course. But we also want it to be an education hub, a resource for the community. Somewhere that will collaborate with the local universities, offering research opportunities.
"We plan to put together an education programme that is designed with the curriculum in Northern Ireland in mind. We also plan to forge very close links with both Queens and Ulster University, and with the further education colleges.
"And since education is lifelong, we will be looking at third age and adult education too."
reefLIVE and the local community
In terms of the local community, Thomas says: "Belfast has areas of some deprivation and need. So, we would hope to be able to offer special packages to local schools, maybe some free visits.
"We're creating over 50 full-time equivalent jobs, as well as providing a lot of employment during the construction stage. The project will also be using a Belfast-based general contractor."
"We would very much hope to draw most of our staff from within the Belfast community. This is the kind of attraction that will employ young people, allowing them to get into the workplace. But equally, people at the other end of their career are very well suited to our kind of business, and we should use that."
COVID-19
He hopes that by the time the reefLIVE Aquarium opens in 2022, the worst of the COVID-19 crisis will have passed. "We will never go back to exactly the way things were, but that can be a good thing."
"People will be more familiar in the long term with buying their timed admission tickets online. So we will be able to spread the visitation over the day, something that will be necessary from a health and public health point of view, to start with. And it will also be helpful in the longer term, making for a better visit."
Animal welfare at reefLIVE Aquarium
Animal welfare is paramount. There are, Thomas says, animals that should not be kept in captivity:
"Aquaria, going forward, are going to have to be focused on justifying why they exist. That means we must be careful about what kind of species we keep, how we keep them, and how we present them. It means that there are a lot of stories we can't easily tell."
"For example, we can't keep large cetaceans, but they're an important part of the story. We can't keep basking sharks, but their migration links many of the environments that we describe. They migrate down through the Irish Sea and head out down to the Azores."
"We want to use digital, augmented reality, gesture tech, as well as great, highly trained staff. This will allow us to communicate messages and stories about environments that we can't have.
"We can talk about the basking shark and its journey. And use that to tell a story that will inform people about the wider marine environment and the stresses on it. We can create the best possible facsimile of an Indonesian coral reef in the largest tank, our coral reef ocean display. So, that can then be used to tell stories."
A positive message
Thomas feels that hearing about the scale of the challenges facing the natural environment can leave people feeling helpless:
"We don't want to focus on the negative. We want to say, 'Look, yes, there are huge stresses to the marine environment. But here's what you can do; here are the charities, organisations and communities that are making a difference out there. Let's use reefLIVE as a platform; as a way of people learning something about them."
He wants people to enjoy visiting, to be inspired, and to feel at the end of their visit that they can, if they choose, make a real difference.
"We've all been to exhibitions about climate change, and it can be overwhelming," says Thomas. "But if you come away from an exhibition like ours feeling interested in what's going on around our coast, perhaps you can link up with someone organising a litter-pick or a beach-clean.
"I saw a report from Cornwall the other day, where there is an organisation that does a lot of beach cleaning. They are now having to pick up gloves and masks that are washing up on the tide.
"It's hard. We were making great progress in moving away from plastic packaging. But now we are having to package ourselves for our safety and survival."
Speaking to a wider audience
The reefLIVE Aquarium is, Thomas says, an opportunity to speak to a wider audience than aquaria have done in the past:
"We have a responsibility to do that. What we are doing is not just building one single project. We intend to create a company that will develop and operate many reefLIVE projects, mainly in the British Isles."
The team is currently carrying out some feasibilities on a location in Cardiff. It is also exploring possibilities in other cities in Great Britain and Ireland. He says:
"Whether we will then look further abroad is for the future. We want to focus for the moment on getting the first project up and running in Belfast.
"But we have learned through developing a chain of SEA LIFE Centres that you can't rest on your laurels. You can't wait for one to open, then, two years later decide to start another. So we're looking at a more immediate plan to develop a series."
Designing the reefLIVE Aquarium
The design of the reefLIVE Belfast project has been developed by a world-leading aquarium design team to an original concept by reefLIVE.
Design of the building is by Ethos Architects, with attraction design and interior layout by a team led and co-ordinated by the award-winning studio of architects and designers Kay Elliott, working with interpretation specialists Imagemakers, and creative agency Theme 3.
Aquarium tank design and construction will be by Aquarium Technology Ltd. and aquarium life support systems by International Aqua-Tech Ltd. Project Management is by McL Projects.
Tanya Griffiths, director of Kay Elliott, spoke to Blooloop.
"We are specialists in aquaria," she says. "It is quite a technical discipline to be operating in, within the attractions universe. Kay Elliott works together with creative consultancies who major on storytelling. We try to combine our technical capacity and creativity with storytelling, and to integrate some of the more cutting-edge ideas around what makes a good attraction, specifically in a zoological context."
For this project, the team developed a process to establish what the guests could be offered from their arrival:
"It involved trying to tease out the ethos of the reefLIVE client: what they were trying to achieve, how that would manifest itself in a spatial dimension, and then how that could provide a framework for the storytelling. And that's generally how we try to work."
Shaping the experience
Explaining her company's role in the process, Griffiths says:
"Where the architect is making the building, we're doing the integration of the building with the exhibits, the technology and the stories. It's a mediating role between those other disciplines."
"What we were doing was shaping what the inside of the experience might do to the footprint of the building. One of the early tasks was to describe what the ideal shape of the building would be on the plot. There are some interesting challenges. When you have an ocean tank which takes up a sizeable chunk of the space, that starts to drive what the guest experience might be.
"We made some early decisions about entering into the building and the journey starting on the first floor, for instance, and how we might then structure the space."
Technical knowledge
The team also brought their technical knowledge and understanding of how aquaria operate:
"We are always trying to balance the guest experience with animal welfare. And with the operational concerns. They are complex systems to integrate. We're also trying to drive the lowest environmental impact as we're doing that simultaneous equation.
"We are thinking about, for instance, the distance between the tanks and the plant rooms. Looking at the servicing of the water and the life support systems. We are trying to make sure that the pipe runs are short to use less material."
"There was a very early decision in the storytelling structure, to go with a geographic water temperature arrangement. This is partly to describe habitats, but also as a practical consideration. You need to keep cool water cool and separate from hot water systems.
"We have organized the exhibits around the arctic to a more temperate environment; the native, which is the Pacific coast, California, round to Ireland; then to the Azores, which starts to become sub-tropical, and then moving them down to coral, which is the highest water temperature."
Optimising the experience
Some of the organising principles that will not be obvious to the visitor optimise everything for the guests, the animals and the staff.
Griffiths says: "A key part of our early involvement is to give that shape. Quite a lot of the aquaria that we do are refurbishment projects, where you don't have that luxury. It's great to be able to work with a new building and to tell that building to do certain things that you struggle to do when you're trying to remodel an existing facility."
"We can also be quite a lot more efficient in terms of how staff can move around the building without being in the visitor flow and that kind of thing.
"Our involvement was to shape those things. And to establish some principles which have gradually become more and more detailed."
Storytelling at reefLIVE Aquarium
Integration of the storytelling element came next, says Griffiths. "We're working with Theme 3; they are evolving the experiential side. We are controlling the spatial dimensions, working closely with them on how we can best integrate the live exhibits with the technology.
"There are lots of considerations in aquaria. For instance, to do with reflections, and the control of the lighting. Your engagement with what's inside a tank is quite severely interrupted if the big screen behind your head is bouncing light off the acrylic."
"We go to quite considerable lengths to model the experience in three dimensions. This means that we can set up and test where things are going to be problematic from that perspective, and where we've got opportunities."
She gives an example:
"Setting up a view, for instance, to create excitement about what's coming in the space beyond, without losing people's attention along the way. We work carefully with everybody in the team, and the services and the structural guys to make sure that that visitor experience is as good as it can be."
Animal care
What this means for the animals displayed is a primary consideration. So, the back-of-house areas are key.
"No-one gets to see that work," she says. "We spend a lot of time making sure that it's possible to reach and maintain and just generally look after everything that's there, and display the creatures to the best effect. It's not a conventional architectural mission, by any means."
Aquarium design is constantly evolving alongside our understanding of animals:
"There are various aspects of how the animals are kept that can be improved as we learn more about them.
"We have learned some things about behaviours and conditions that mean that some animals can't be shown anymore. Because we know now that it is not ethical. There has been a shift. We are already taking on board things that are not just current, but that we anticipate into the future."
New ways of telling stories
When it comes to larger and migratory animals and cetaceans, there are other means of telling their stories:
"The real step change for this aquarium is that it is, firstly, a new build. Secondly, the balance of live exhibits with technology has been considered in a very different way. We have the ambition of telling stories that other aquaria can't.
"Traditionally, you have a tank, and you can talk about the animal in the tank. You can describe its habitat. But you can't always convey what's special about that particular animal."
"We can look at the significance of the larger animals like cetaceans, for example, more broadly. Animals which we don't – and shouldn't – keep in captivity. Telling these stories that are otherwise quite difficult is where the technology comes in.
"We can also talk about specific behaviours that are difficult to show as a live exhibit because it's potentially an event. You can't expect an animal to perform the thing that makes it interesting. But you can use technology to tell that part of the story either with a live exhibit, or in the abstract.
"The connections can also be explored, as we talk about their environments, the interconnectedness of the environment, and the human role within it.
"Part of the major drive here and the differentiator is that we are able, with this new concept and a new building, to make the live exhibits and the technology sing. We can bring out the stories that haven't been told, or that can be told better. That's where the creative process gets really interesting."
Providing inspiration
The aim is that visitors will come away feeling motivated to do something about the marine environment:
"If we can find ways to engage people in what goes on and how amazing it is, we stand a much better chance of people feeling strongly enough about it do something. It's a less passive, more exciting and invigorating way of enjoying an aquarium."
The engagement is about forging an emotional connection. The aim is to let visitors feel they have some agency in combating stresses on the marine environment.
Griffiths says: "We point out the difficulties, but also the positive things that people can do. It is a much more personal experience than has traditionally been the case, and it engages differently. Being able to develop a concept in this way with a new building is a fantastic opportunity."
Facing challenges
The COVID crisis drove some changes to the reefLIVE project, she explains:
"Initially, there was quite a concern. It's an internal environment that is designed to be immersive. The Aquarium is not a big open space; it's a series of connected rooms, in effect.
"We have moved from a serious worry about the spatial dimensions, to looking at how the spaces are best programmed, and also how we use the technology. There are some questions about touch technology and some of the more manual interactions."
"Some of the aspects that people enjoy at aquaria, like sandpits, are going to be much more difficult to put in place. But that's not to say that we can't work with the principles and devise some new interactions.
"In some respects, we are slightly excited about the potential for innovation in this context. Because it will naturally drive other ways of engaging people, where the old methods won't be permissible."
A novel approach at reefLIVE
It is, she says, in the interpretation and interaction that we will see novel approaches:
"The challenge is to ensure that we don't get overreaction, we want to avoid expensive responses to COVID-19, which then become obsolete.
We need to guard against obsolescence while harnessing opportunities from the tech side that can help us drive something new and interesting. We need to sift through all those dimensions to encapsulate the best result for this project."
Images kind courtesy of Theme 3 and reefLIVE